Sailing Cruises
Puerto Vallarta's enviable location on the Bay of Banderas and backed by the Sierra Madre Mountains lends itself to some beautiful scenery. A great way to admire the bay's attractions and enjoy some water activities is to go on a Puerto Vallarta sailing adventure.
Featured Sailing Cruises
This wonderful sailing tour is the perfect way to spend a day in Puerto Vallarta! Relax on board, sail into the wind, swim in crystal clear blue water and explore the natural wonders of Banderas Bay. This day combines pure, unadulterated sailing pleasure with absolute pampering!

Puerto Vallarta is known for beautiful sunsets and there is nothing more tranquil and romantic than sailing across Banderas Bay as the crimson sun dips into the deep blue waters of the Pacific. Imagine relaxing on the deck of a luxury Beneteau sailboat with a cocktail in your hand as the wind pushes you across the crystal clear waters of Banderas Bay at sunset.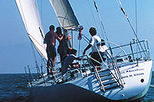 Day Cruises
Most day cruises will take you along the coastline and see the inviting beaches and Los Arcos, which are huge boulders that rise above the water at the entrance to Mismaloya. These trips usually include snorkeling.
Whale Watching
During the months of December- March there are cruises that are specifically for whale watching trips.
Sunset Cruises
There is nothing like being on the water, drink in hand, watching the sunset. This popular night time activity can be enjoyed by everyone of all ages.
Sailing Tours
Puerto Vallarta sailing tours offer luxury cruises, private day or sunset cruises or multi day adventures.
Hiring a private charter with a crew is the best way to enjoy your sailing trip. Food, drink and activities can be arranged so that all you need to do is show up at the marina.
Before getting on the boat, the crew will give you short briefing on the basics of sailing. After that, you can be as active as you want. You can either choose to just relax and enjoy the day or go scuba diving, snorkeling or swimming in a secluded cove that can only be reached by boat.
Learning to sail is another option. The experienced crew has a whole range of cruising lessons that will suit any one's need whether novice or advanced.
Tips:
1. Book your cruise in advance so you can be guaranteed a spot on a tour or a boat if you are hiring private charter.
2. Bring suntan lotion.
3. Be aware of what is included in your tour before you sign.
4. Listen to what the crew says. SAFETY is number one.
If you are lucky enough to be in Puerto Vallarta, don't miss out on a wonderful chance to sail the Bay of Banderas and enjoy all of the activities that Puerto Vallarta sailing tours has to offer.