Sightseeing Tours
From city tours to tours into the mountain towns near by, there are plenty of sightseeing tours for those who love to get to know the area they are visiting. Puerto Vallarta offers small mining towns, historic tours and more.
Nestled in the heart of the Sierra Madre Mountains, San Sebastian's remote location and historic appeal have made it one of Mexico's last great getaways. As the road weaves through the mountains, you'll enjoy fantastic scenery and typical scenes of rural Mexican life, making this journey both breathtaking and relaxing. Approx 7 hours.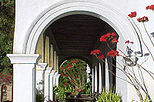 Jump on this exciting Sierra Madre Jeep Adventure safari and explore the fascinating, traditional "Old Mexico" villages. You'll have the opportunity to journey in the Mexican outback, as well as learn about the ecology and wildlife found in the mountains and jungles of the Sierra Madre in Puerto Vallarta.Approx 7 hours.